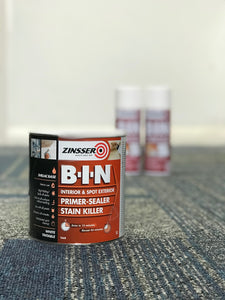 Zinsser B.I.N Primer / Sealer and Stain Killer 1 LITRE TIN
Regular price £27.50 Sale
Zinsser B.I.N Prime-Sealer and Stain Killer 1 LITRE TIN
"Unique shellac formula for:
- Stains from smoke, water and grease.
- Stained ceilings.
- Knots, sap and filled areas.
- Wicker, louvres and corners.
- Hard-to-stick surfaces.
B.I.N is a high-performance, white-pigmented shellac based primer-sealer/stain killer/bond coat that combines the convenience of lightning-fast dry time with outstanding adhesion and the best stain killing power available.  It is ideal for new or previously coated wood, plaster, drywall, filled areas, porous wallcovering, and panelling."