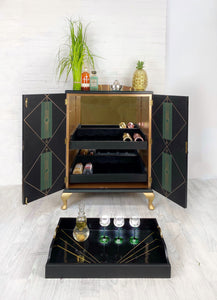 Small Cocktail Cabinet - Drinks Bar
Regular price £975.00 Sale
Medium Sized Cocktail Cabinet

This 1940s cupboard has been fully restored and is in excellent condition. All surfaces have been professionally painted in Fusion Coal Black and Lingotto Gold (acrylic resin based professional furniture paints).
The original veneer has been restored and revived by stripping and re finishing with natural stain and finishing oil, a sunburst design has been applied to the outside following the lines of the orginal veneer.  There are a couple of flaws - as to be expected with a piece of this age. 
The top now has a mirrored top to give you somewhere to mix and servce cocktails from.  
The inside is hand painted in Lingotto Gold and has a designh in green in gold - inspired by the orginal door pull.  

There are two velvet lined wine drawers - stores 12 bottles!!!

The top drawer is completely removable and doubles up as a serving tray!  The base of which has been finised in a resin to make any spills wipeable. 

Free Delivery in the UK by professional courier.

Height: 110 centimetres
Width: 78 centimetres
Depth: 51 centimetres