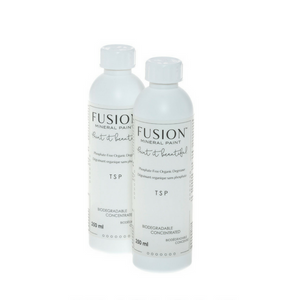 TSP biodegradable degreaser from Fusion
Regular price £10.99 Sale
TSP is unique to Fusion and the UK!
Fusion™ TSP is a water-based biodegradable degreaser used to thoroughly clean a bare or painted surface prior to applying paint. Highly efficient, it removes oil, grease, fingerprints, stains and other contaminants, which will improve the adhesion and the look of subsequent coatings.
Safe to use on all surfaces (wood, paint, gypsum, melamine, plastics, metals and glass). Fusion™ TSP is environmentally friendly and contains no phosphates.
Concentrated
No rinsing required
Effective
Water-based and biodegradable
Compatible with all surfaces
NO phosphates
Preparation:
Mix 2 full caps into 1 Litre of water.
Clean the surface with a diluted solution using a sponge or rag cloth.
Use:
Clean the painted surfaces before applying new paint.
Prepare finished surfaces before applying new paint.