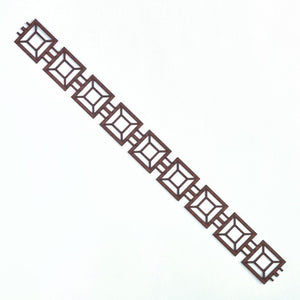 PolyOnlay Geo Trim Strip GTS102 - PACK of 2
Regular price £33.95 Sale
Create stunning trims and edges on furniture, craft projects or art works with PolyOnlay. 
PolyOnlay is a brand new decorative material for the furniture and craft industry. We have created an innovative type of onlay made from a very strong and flexible wood pulp product. They are only 0.9 mm thick and can be decorated in the same way as raised stencils, embossing or reliefs. Patterns and shapes can be repeated with exact precision and with very little effort.
Our onlays:
Are water resistant, so they can be painted, stained, and washed
Can be decorated in any possible way – you can use paint, wax, glue, tissue, metallics or any other medium on and with them – or leave them as they are!
Are bendable, so they can be used on curved surfaces
Can be cut and sanded to fit a specific space
Can be used with any type of adhesive
Has Greenguard Gold Certification which means the product has extremely low VOC emissions and can safely be used by the whole family.
Two Geo Trim Strips per pack
Measurements are approximate and per strip
Length: 560mm

Width: 50mm